C.A.B Trivia/Did You Know?
Welcome to the C.A.B Trivia page, we've added this page to add all the things that don't quite fit anywhere on the website
Cast Deaths
Below is listings of the cast who have sadly passed away since the series ended:
| | | | |
| --- | --- | --- | --- |
| Date | Age | Birth Date | Cast (Character) |
| 23 June 1990 | 62 | 31 December 1927 | Frank Gatliff (Mr Hellman) |
| 22 June 1993 | 67 | 16 March 1926 | Victor Maddern (Private Tripe) |
| 9 November 2005 | 87 | 18 April 1918 | Avril Angers (Ma Mossop) |
| 15th July 2014 | 59 | 1955 | Lyndam Gregory (Anwar) |
Cast & Crew Births
Below is listings of the known birth dates of the cast and crew:
| | | |
| --- | --- | --- |
| Birth Date | Cast/Crew | Age |
| 13 November 1936 | Joan Hooley (Umma) | |
| 12 December 1936 | Denise Coffey (Writer, series one) | |
| 12 July 1950 | Graham Seed (Smith) | |
| 15 June 1945 | Michael Bertenshaw (Vine) | |
| 20 February 1951 | John Vine (Robert) | |
Honey, Honey
Celina Cherry who appeared as Jo in one episode of series one later became the lead singer of The Honeyz, click on the following links for Honeyz wikipedia and Twitter pages:
Wikipedia Celena Cherry page
Wikipedia Honeyz page
Celena Cherry Twitter page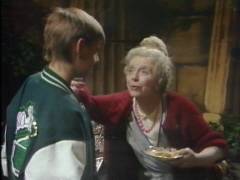 Granny Bag?
The first series were written by none other than Denise Coffey who later became Granny Bag in the Thames Television children's TV programme T-Bag. See image right for image of Denise Coffey as Granny Bag in T. Bag and The Rings Of Olympus.

To find out more about T-Bag please visit my The High-T Website.
Painted White Credits
In most the episodes of series two the episode credits are yellow in colour but in episode three the credits are in white instead! Also in series two most the episode numbers are yellow but episodes three, five and seven are white and episode ten does not even get an episode number appear on screen.
Same Door, Different Shop
In the back room of Ma Mossop's shop you can see the back door but in series two and three this same door reappears in The Wooden Kamel, it must have been a set after all. See the images to the side to see the door in question.
Episode Titles
Series one and three have their episode titles on screen. Series two is the only series not to have individual titles appear in the programme, episode titles for series two were given in the TV Times magazine.
Finding the Font
The font used for the main C.A.B. logo in series one and two is 'Century Schoolbook'. The font used on the logo for the third series is similar to 'ITC Benguiat Bold', you can download these fonts (and variations) here. Does anyone know what the exact font used for the third series is?
Getting 'The Upper Hand'
Felipe Izquierdo (Colin Freshwater) and Graham Seed (Smith) both had guest appearances in different episodes of the third series of the ITV sitcom 'The Upper Hand' in 1991 and 1992. Felipe Izquierdo appears in the third episode titled 'Once Bitten, Twice Shy' and Graham Seed appears in the episode titled 'Family Ties'.
Very Advanced Filming
According to the camera script for episode five of series three this episode was recorded on Wednesday 30th September 1987 - months before series two had even aired in the UK.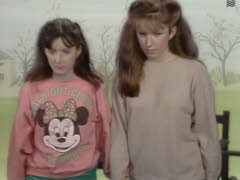 Watch Out Girls - Franny's Minnie Mouse jumper
Franny's Minnie Mouse 'Watch Out Girls' pink jumper seen in series one up to episode eight was reused by Thames Television in the Dramarama episode 'My Friend Julie' aired in 1987 worn by Gina Lander.
A Ghostly Melody
The incidental and theme music used in the third series of C.A.B was previously used by Thames Television in the Dramarama Spooky episode The Ghostly Earl in 1983.
Mummy spotting!
The Mummy sarcophagus, seen in series one and two, has been spotted in numerous other programmes, for more details (and images) please see the Mummy Spotting page.
Off Their Rockers
Joan Hooley (Umma, series 2) appeared in the ITV hidden camera show Off Their Rockers in 2015 and here are some pictures.